188bet lừa đảo_cách đặt cược baccarat_cách chơi baccarat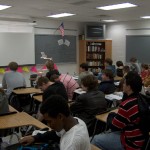 Three films, two polar opposites.
from Truthout
Waiting for Superman and Won't Back Down are two recent films portraying the American public school system as an abject failure, and private for-profit charter schools as the superior answer. Both films are produced and heavily promoted by corporate foundations and conservative billionaires championing educational "reform" based on privatizing schools, according to Peter Dreier of Truthout. In two films produced by right-wing businessman Phil Anschutz, public school teachers and especially teachers' unions are portrayed as the problem. On the other hand, Go Public: A Day in the Life of an American School District is a welcome antidote to the neoliberal education dogma.
StraightGoods.ca